November 25th, 2005 – Microimage won Gold awards including the Overall Best Product Gold to become the kings of Software Innovation for 2005 at the British Computer Society (BCS) National Best Quality Software Awards held recently in Colombo.
Microimage won the GOLD award in the "Communications Application" category, and won the Sri Lanka Telecom Special Award the GOLD in the "Best Overall Product" category. Microimage thus earned the right to enter its "mobile messaging & browser" product in the Asia Pacific ICT Awards (APICTA), to be held in Bali, Indonesia this year.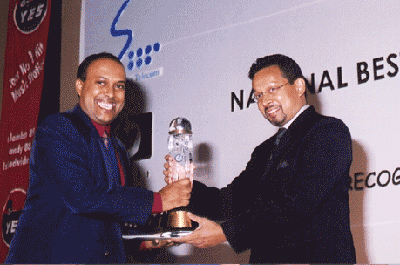 Microimage Chief Operating Officer Nalaka Kularatne said that "we won gold awards for localized mobile messaging and browser platform, a complete solution for mobile messaging- and content browsing in native languages. We developed the platform in Sinhala, Tamil and also the Divehi (language of Maldives).
Microimage was founded in 1993 by a group of A-level students who were passionate about innovating new technology and software solutions. Incorporated in 1995, it now has a staff of 40 at its Development Center and Corporate Office in Colombo, with its own branch operation in Bangladesh, and business partners in several regional countries, to represent its products.
The annual BCS National Best Quality Software Awards is organized by NBQSA in association with the British Computer Society the Sri Lanka Association for Software Industry (SLASI), and the Infotel Society.
The mobile messaging platform supports Sinhala and Tamil SMS (short message service), MMS (Multimedia Message Service) & Email. The product supports all characters and its combinations and provides an extremely user friendly key-in mechanism. The product is currently Patents pending.
Mobile launched browser was in April 2005 together with Dialog Telekom. The product will provide access to a range of content portals in Sinhala and Tamil empowering millions of people around Sri Lanka.