Unveils latest version of flagship radio automation solution – mStudio 3.0
Microimage Mobile Media shared their vision for the future of radio broadcasting at Broadcast Asia 2016 in Singapore. The latest version of their flagship radio automation solution mStudio offers radio broadcasters the capability to redefine the way radio is experienced by listeners. The new version takes radio to a distinctive level by enabling broadcasters to do simulcast both audio/video combined. Radio Listeners can experience radio like never before with the ability to watch live video broadcast with interaction using their smart mobile devices. BroadcastAsia is the largest annual broadcast technology show in Asia where the event is targeted towards pro-audio, film and broadcast industry. The event is coupled with CommunicAsia conference & exhibition which takes place in Marina Bay Sands in Singapore.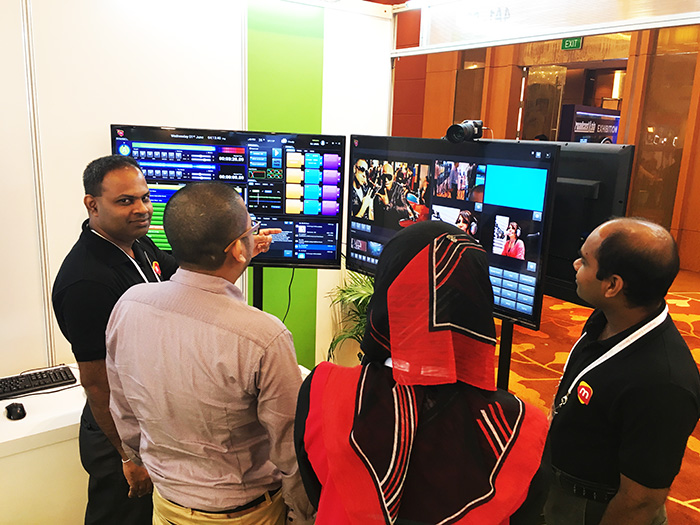 Microimage Mobile Media's latest version mStudio brings Visual, Mobile and Social capabilities to radio broadcasters. Radio stations now can combine video and deliver a rich experience to listeners who now have the ability to engage using mobile & social technology. "We are absolutely thrilled to announce our latest mStudio release which is designed to redefine the radio listener experience" said Harsha Purasinghe, CEO of Microimage Mobile Media. "Today, we are in the era of digital transformation, and radio broadcasters need to reinvent the way they distribute their content and engage with their community. mStudio 3.0 offers an array of functionalities not only to listener's experience of the station but to advertisers as well", Purasinghe further stated. The latest version also allows stations to offer a new dimension in radio advertising by offering a unique product to all their clients. The advertisers now can leverage the enhanced video and interactive advert capabilities offered through the product where the listeners can experience over their smart mobile devices. The new platform releases functionality for media scheduling, interactive advert scheduling and new play out console which allows audio/video simulcast with integration to social channels such as facebook/twitter.
Originally unveiled in 2004, mStudio is perhaps Asia's first comprehensive radio broadcast automation platform. Since then the product has grown from strength to strength where it's deployed with a number of Asian radio stations in Sri Lanka, Malaysia and in Brunei. Microimage distribute its product in the region in partnership with Rentak Setia Sdn Bhd based in Malaysia. Paul Soosay, Founder/CEO of Rentak Setia said "We have been working with Microimage over the past 6 years deploying their flagship commercial scheduling solutions to RTM Malaysia. We are excited with the latest version of mStudio and innovative capabilities it offers to take radio broadcasters to another level. We look forward to closely working with Microimage to take their broad range of broadcast solutions to other Asian territories."
Microimage Mobile Media operates through partners, and the strong partnership with Rentak Setia enables the company to market, distribute, implement, integrate and support their clients out of Kuala Lumpur. Rentak Setia has also a commercial presence in Jakarta, Indonesia where Microimage Mobile Media intends to enter the market with its range of broadcast technology solutions this year. Apart from showcasing mStudio 3.0 – the latest radio automation which offers visual, mobile and social capabilities, the company also showcased the other key broadcast technology platforms at this flagship event. The other significant highlights include vStation – the comprehensive advert insertion platform, Ziksa- the Digital learning delivery platform.
The client portfolio of Microimage Mobile Media consists of some of the renowned broadcast and media players in Asia, namely: RTM-Malaysia (Malaysia's National TV/Radio Broadcaster), DST-Kristal FM Brunei, SLBC, ITN, ABC Radio Networks, MBC Radio Networks, EAP, Dialog TV & SLT PeoTV – Sri Lanka.
For any information please contact info@mimobimedia.com
Find out more about our press release on,