26th March 2012, Colombo: Sri Lanka's first eBook store, Book Hub, was officially opened to readers marking a momentous mile stone in Sri Lanka's publishing history. Spearheaded by Etisalat, Microimage and M.D. Gunasena, Book Hub has been released, a month after its announcement. The bookhub website www.thebookhub.lk and the reader for Android smart devices and PCs were launched at a ceremony at the Hilton Residence in the presence of Mr.Lalith Weeratunga, Secretary to the President.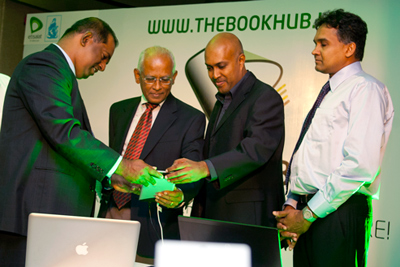 The eBook store launches with over 25 titles and aimed to reach 100 in a month. EBooks bought through the online store will be priced lower than the physical version of the same book, and readers can enjoy the convenience of being able to purchase books from anywhere. Purchases can be made through the use of Etisalat preloaded cards and credit cards, irrespective of your mobile service provider or internet provider.
Etisalat's CEO, Dumindra Ratnayaka, said, "This is a landmark occasion for Etisalat and for publishing in Sri Lanka. We finally have a chance to be a part of the global phenomenon of eBooks that has spread through the increasing popularity of smartphones, tablet PCs and eBook readers. This innovation will not only see Sri Lankan Literature become easier to preserve, distribute and read but will also help take it to a global audience. Ultimately the ones to benefit the most will be local authors and reading enthusiasts of today and for generations to com
EBooks and eBook readers have become a global phenomenon as the rise in smart phones and mobile devices have led consumers to look to satisfy an ever increasing segment of their needs through them. Sri Lankan publishers and authors haven't been able to take advantage of this innovation though, because the cost of hosting books on major international eBook stores is too steep.
Microimage, CEO, Harsha Purasinghe said "BookHUB platform and BookHUB eReader Apps provides complete inclusive ecosystem for Sri Lankan book lovers from all walks of life. BookHUB App even works on low end Android Smart phones which are widely becoming popular in Sri Lanka. Also we intend to release the BookHUB eBook reader for iOS platform covering iPhone & iPad in the near future. There is no doubt that the BookHUB initiative will transform Sri Lankan publishing industry to the next generation of publishing thus Sri Lankan books will be preserved forever
The platform is also looking beyond hosting books, into hosting magazines, educational material, and eventually newspapers; for the first three months the LBR magazine will also be available on Book Hub as a free download.
About Etisalat : As one of the most powerful players in Sri Lanka's telecommunications industry, Etisalat continues to discover new horizons and explore new possibilities in the domain. Etisalat further offers Sri Lanka's most cutting edge Internet solutions with the launch if it's 3.75G technology. Standing at the top of the ladder in innovation, quality and customer service, they have surpassed 4 million subscribers in a record time since their launch and Etisalat remains dedicated to increasing its subscriber base and taking the company to greater heights.
About M.D Gunesena M.D. Gunasena & Company (Private) Limited, one of the longest standing and most respected publishers in Sri Lanka, with roots that date as far back as 1913. M. D. Gunasena being synonymous with education in the country brings the publishing expertise and industry representation to the online book store.
About Microimage Microimage, a leading award winning technology innovator in Sri Lanka engineered the entire BookHUB application platform consisting of BookHUB eBookStore, eBook reader for PC and popular smart phone platforms.