December 2006 – It takes only a handful of companies, if ever, who are proficient enough to wrap up 5 big accolades in 3 major events both local and overseas. Microimage did just that. Microimage bagged 5 Gold awards at 3 different events during last quarter of 2006 ending a successful year of innovation.
"Winning awards can not get any better than this" says Harsha Purasinghe, CEO of Microimage (Pvt) Ltd. Going back to those jubilant moments during last few months, he says "Winning 4 local awards meant so much to us. Winning One International award meant so much not only to us; whole of Sri Lanka can be very proud of."
Their latest achievement was winning the award for localizing SMS and Mobile Browser under the category of "locally developed new technologies which have resulted in a successfully marketed products/services" at National Science and Technology Foundation Awards 2006 held at Presidential Secretariat and awarded by His Excellency the President Mahinda Rajapakse in November.
In the same award ceremony, they clinched the award under the category of "Excellence in multidisciplinary team efforts in research and development". The DEWN (Disaster Early warning Network) project developed in collaboration with Dialog Telecom and University of Moratuwa was felicitated with the above award. DEWN is a cost effective and multi modal multi language mass alert system which could be deployed for the purpose of warning key stakeholders in disaster management as well as the general public in advance of the occurrence of life threatening disasters. The pilot launch of DEWN took place in November 2005 together with the Ministry of Public Security Law and Order.
"True, winning award is something that one could be really excited about but when the solutions are really going to save thousands of lives of people from a real disaster of the magnitude of a next possible Tsunami that gives us a tremendous momentum to justify our long standing hard work in R&D. We are very glad to note that a memorandum of understanding was signed between Dialog Telekom Limited and Disaster Management Centre (DMC) on 29th November 2006 to implement DEWN" says Harsha. "This comprises software, hardware and services collectively to form an emergency alerting system developed by Microimage and Dialog Telekom Ltd in collaboration with the University of Moratuwa. The network uses the Dialog GSM technology and a device called 'Remote Alarm Device' specially designed by the University for the purpose of issuing early warning on hazards"
According to Harsha, the software has capability to disseminate warning messages to general public via SMS in all three languages, Cell Broadcasting and by activating the above remote alarm devices managed by DMC.
It was in October, Microimage together with Dialog Telecom and University of Moratuwa bagged two Gold Awards at the National Best Quality Software Awards 2006.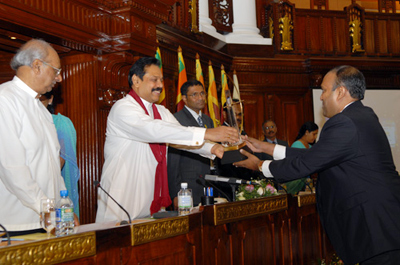 The National Best Quality Software Awards recognizes and honors significant technological development and innovations in Sri Lanka's software industry. The NBQSAs is organized by British Computer Society (BCS) with the support of Sri Lanka Association for Software Industry (SLASI), Software Exporters Association (SEA), Infotel Society (INFOTEL), University of Colombo and University of Moratuwa.
"This is the 3rd time we have been recognized in the highest possible manner at National Best Quality Software Awards in 2004, 2005 and 2006" Says Harsha. "Over three consecutive years, we were awarded 2 Overall Gold and 1 Overall Silver Award"
The month of October marked perhaps the biggest award Microimage has ever clinched. "This year's winning stream started off when The GSM Association (GSMA) in October announced the winners of the inaugural Asia Mobile Innovation Awards at the world-famous Raffles Hotel in Singapore. We won the award for GSMA Asia Most Innovative Mobile Application or Content.
The competition sponsored by Ericsson, was exclusively for young, small and start-up companies across Asia developing exciting, innovative technologies, applications and content for the fast moving mobile space. Microimage developed the world's first patented local language messaging and content browsing application to provide customised, local language support for entry-level applications on mobile devices in emerging markets.
"We are absolutely delighted that the judges selected our localized messaging and content browsing service as Asia's Most Innovative Mobile Application or Content offering," says Harsha "The award is fitting testimony to the hard work of the team at Microimage and will act as a catalyst to our company's international expansion. We would like to thank the operators, partners and customers who made this happen."
In addition to their award, Microimage will receive an automatic place on the shortlist for the innovation category of the GSMA's Global Mobile Awards at the 3GSM World Congress in Barcelona, Spain next February.
The GSM Association (GSMA) is the global trade association representing 700 GSM mobile phone operators across 215 countries of the world. In addition, more than 180 manufacturers and suppliers support the Association's initiatives as key partners.
The primary goals of the GSMA are to ensure mobile phones and wireless services work globally and are easily accessible, enhancing their value to individual customers and national economies, while creating new business opportunities for operators and their suppliers. The Association's members serve more than two billion customers – 82% of the world's mobile phone users.